BfS will support the WHO in the future also in emergency protection and in risk communication
Federal Office for Radiation Protection designated as WHO cooperation centre for another four years
Year of issue
2018
Date
2018.03.19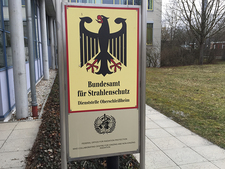 A sign in front of the BfS building in Neuherberg identifies the BfS as WHO-Collaborating Centre
The Federal Office for Radiation Protection (BfS) will continue to support the World Health Organisation WHO with its expertise in the field of radiation protection as a collaborating centre. In addi-tion to existing topics such as the assessment of health effects of UV radiation or protection against the radioactive inert gas radon and its decay products, BfS, as a partner of the WHO, will also be involved in emergency protection and risk communication in the future.
In the field of emergency protection, contributions to dose estimates and risk assessment in radiological emergencies are being planned. BfS will also contribute to the public understanding of radiation-related risks in various subject areas and support the WHO in the development of appropriate communication strategies. These include studies on the psychosocial effects of nuclear and other radiological emergencies.
Many years of experience in emergency protection and risk communication
BfS, which was founded in response to the reactor accident in Chernobyl, has long-standing experience in emergency protection. In an emergency it is vital to make comprehensive analysis and forecasts of the radiological situation without delay. This includes, among others, individual estimates of radiation exposure to the general public caused by the emergency, e.g. also using special biological methods (biodosimetry). BfS will contribute their experiences and findings on emergency protection to the joint work via the WHO network REMPAN (Radiation Emergency Medical Preparedness and Assistance Network).
BfS also has broad knowledge in risk communication. This is crucial when research findings in the areas of risk perception and radiation protection behaviour in the population are to be translated into comprehensible information and well-founded recommendations for the population. The RENEB network initiated by BfS can provide a realistic assessment of the possible dose received by means of retrospective personal dose estimates. In a nuclear emergency there is also a need to alleviate psychological stress consequences. These might occur particularly as a result of evacuation, fear of social exclusion or health impacts.
BfS supports WHO in eight research and work areas
WHO Collaborating Centres are research institutions or institutes appointed by the director general to serve as part of an international WHO collaboration network on health issues. BfS as "WHO Collaborating Centre for Ionising and Non-Ionising Radiation and Health" now supports WHO in a total of eight research and work areas dealing with the identification and assessment of radiation risks, risk communication and the development of international safety standards and technical guidelines:
Radiation risks in the low-dose range
Ermegency protection
Electric magnetic and electromagnetic fields
Optical radiation
Radiation exposure in medicine
Development and implementation of standards and guidelines
Risk communicationhe
Currently there are 23 Collaboration Centres in the field of ionising and non-ionising radiation worldwide, of which two are in Germany there. The centres' collaboration with WHO is also intended to promote the exchange between the individual institutions.