BfS annual report 2017/18 published
RESEARCHING, INFORMING, PROTECTING –the motto of the current annual report of the Federal Office for Radiation Protection (BfS)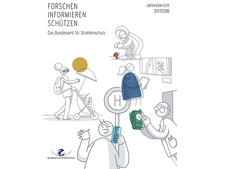 RESEARCHING, PROVIDING INFORMATION, PROTECTING – that is the motto of the current annual report of the BfS.
The Act on the Institutional Restructuring of Radioactive Waste Disposal that became effective in 2016 also involved the restructuring of the Federal Office for Radiation Protection.
With the annual report 2017/18 published now, the Federal Office presents itself with its new tasks and wide spectrum of topics.
Researching, informing, protecting – the Federal Office for Radiation Protection's (BfS) tasks are manifold
Among the BfS work priorities selected for the publication are the social handling of radiation risks, radiation protection associated with the energy grid expansion, radiation-protection relevant aspects of digitalisation, radon protection in Germany but also BfS recommendations regarding the handling of laser or ultrasound devices in the cosmetic industry.
More topics
Furthermore, you will find articles in the report
on the prevention of UV-related diseases,
on the radiation protection situation of patients in medicine,
on occupational radiation protection,
on current activities in the context of monitoring environmental radioactivity, as well as
on international research co-operation of the BfS, and
an introduction of the BfS divisions.