Climate change also entails higher UV radiation
BfS calls for more shady places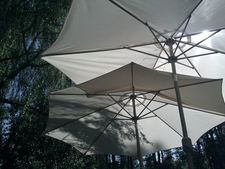 Protection against heat and UV radiation
Germany suffers a heatwave, and it has been going on for weeks. Scientists and environmentalists are warning of the irreversible consequences of climate change, farmers demand compensation and those who are lucky look for a cool spot to relax.
However, there is one thing we often forget: Climate change also aggravates the problem of UV radiation. And just in these hot days many of us become aware that there is no tree in the proximity that might offer shade to protect us from the sun.
The Federal Office for Radiation Protection (BfS) wants to create better possibilities for people to protect themselves from the sun. This includes, among other things, more shady places.
Creating shady places
"The shade does not only offer refuge from the heat but also from too much UV radiation. We know that UV radiation can provoke cancer, therefore we always call for everyone to avoid strong sunlight. This is not always possible. Yet the climate change adds particular urgency:
BfS President Dr. Inge Paulini
Everyone who wants to protect themselves should have the possibility to do so.
Everyone who looks for shade should be able to find some.
The Federal Office for Radiation Protection advocates the creation of shady places in kindergartens, schools, but also in public squares or recreational facilities", says BfS President Inge Paulini.
Number of new skin cancer cases continues to rise
The climate change has an impact on UV radiation in three respects:
more sunny days lead to more days with high UV values,
depending on the weather conditions, mini ozone holes can occur in the atmosphere as early as spring, causing the UV index to rise to remarkable levels even in April and
the ozone layer does not appear to be recovering to the extent originally predicted.
This means that everyone's UV exposure can increase and thus also the risk of serious diseases of the skin and eyes.
The BfS has worked for decades on preventing UV-related diseases, in particular skin cancers, by way of research, information and precautions. However, projections for 2018 based on data from the cancer registry of Schleswig-Holstein show that the number of new skin cancer cases has continued to increase. According to the figures, 293,000 new cases of skin cancer were diagnosed in 2015 (258,000 cases of non-melanoma skin cancer and 35,500 cases of malignant melanoma). This is about ten percent more than in 2013.
Improving UV protection
Together with its partners in the UV Protection Alliance, the BfS has made a list of measures designed to improve UV protection. Apart from shady places, this includes in particular improved public information on the current UV exposure (UV index) using display panels or other modern media in all kinds of places where people sunbathe or swim or spend a long time in the sun.
Additionally, the topic should be increasingly incorporated in the relevant school and study curricula and training plans as well as in further education and advanced training measures. The UV Protection Alliance also advocates a legal framework for the prevention of UV-related diseases.