"Course of events of the accident in Fukushima not to be compared with Chernobyl"
Date
2011.03.19
Interviewed person(s)
Wolfram König, president of BfS from 1999 to 2017
Reporter
Georg Ismar, dpa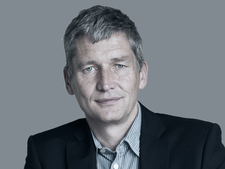 Wolfram König, President of BfS from 1999 to 2017
The nuclear accident in Japanese Fukushima was not comparable with the disaster of Chernobyl, taking into account all available knowledge. This was emphasised by Wolfram König, president of the Federal Office for Radiation Protection (BfS) from 1999 to 2017, in an interview with the German Press Agency (dpa) in March 2011. König explained what radiation protection measures are being taken in Germany.
A high-sensitive low-level trace analysis device on the Schauinsland mountain near Freiburg can even detect when fuel elements are being cut open in the French La Hague reprocessing plant.
Even if it's difficult to do this from afar, how do you evaluate the situation in the Fukushima nuclear complex?
König: "What must be prevented by all means is an uncontrolled release of radioactivity on a large scale. This would be the case if the containment and the reactor pressure vessel would be destroyed."
What needs to be done in such a case?
König: "What needs to be done exactly can only be decided by local experts. As a short-term measure there is the option to evacuate the people within an appropriate radius around the nuclear power plants. This has already been ordered. Secondly, by handing out iodine tablets within a larger radius it is possible to minimise the potential damage that may result from the released iodine, i.e. consequential thyroid cancer. This way the thyroid is blocked by non-radioactive iodine tablets in such a way that it cannot take up the radioactive iodine particles. The half-life of iodine is eight days, so that it is also possible to take preventive action in such acute situations. However, there is no reason for people in this country to take additional iodine. That will damage their health."
What has been learnt from Chernobyl in terms of safeguards?
König: "Shortly after the reactor accident had become public 25 years ago, there was a lot of confusion in Germany as to recommendations and interpretations of the risk associated with the radioactive cloud from Chernobyl. As a consequence an extensive measurement network was installed. The BfS operates around 1,800 measurement stations altogether continuously providing a survey of the level of radioactive exposure in Germany. The measurement stations are systematically distributed all over Germany."
How do these stations help in a worst-case scenario?
König: "If there were an accident in a nuclear power plant in Germany or in one of our neighbouring countries, we could make a very reliable forecast how such a radioactive cloud would move and what exposures would go along on the basis of meteorological data, topographic data and the knowledge of the source. Thus it would be possible to provide the disaster authorities, the police authorities and the population with reliable recommendations in terms of safeguards. These recommendations would relate to the consumption of fruit and vegetables produced up to evacuation recommendations or the handing our of iodine tablets."
How does the European co-operation proceed?
König: "There is a very intensive exchange with our neighbouring countries on the European level and we have another special measurement installation, one of altogether four installations in Europe and 60 stations world-wide. I'm talking about a low-level trace analysis device on the Schauinsland mountain near Freiburg. The device measures radioactive noble gases. It is part of the monitoring devices of the Comprehensive Nuclear-Test-Ban Treaty. With it radioactive substances can be detected world-wide, for example from nuclear weapons tests. However, we can also detect very accurately changes of the radioactivity level in the atmosphere. The device is so sensitive that we can detect fuel elements being cut open in a reprocessing process in French La Hague which is about 700 km from here."
What is the difference between Fukushima and Chernobyl?
König: "My concern is the protection of the locals. Anyhow, according to the current state of knowledge it is very probable that in Japan we will not experience what happened in Chernobyl: That large amounts of radioactive substances are flung very far and reach great heights and then spread over the entire northern hemisphere. In Chernobyl the reactor was on fire. This reactor was graphite-moderated, that is, there was combustible material immediately in the reactor core. This fire had the result that the substances, the radioactive particles, were brought very high into the atmosphere. It is impossible that such a fire occurs in the Japanese boiling-water reactors. Secondly, so far there has been a meteorological situation in Japan which does not abet the radioactive substances reaching great heights in case of an explosive release of the reactor material. At the same time, however, over a longer period of time we have to expect that these particles, too, will spread in the atmosphere, although they will be very much diluted. When indicated this could also be analysed in the Schauinsland measurement device."