UV skin protection
Ultraviolet (UV-) radiation can cause permanent damage to your skin. It is therefore strongly recommended to give protection to your skin with a sunscreen adapted to your individual skin type.
Sunscreen can provide appropriate protection from sunburn, but it does by no means supersede other protection measures such as clothing, headwear, sunglasses and natural shade. Despite sunscreen, part of the UV-radiation still enters your skin. UV-induced damages to the skin develop already long before sunburn occurs. This is why it is so important to observe all sun protection rules in addition to applying sunscreen!
How do sunscreens protect against UV-radiation?
Sunscreen products contain physical and/or chemical UV-filters. Since none of these alone will provide protection throughout the entire UV-spectrum, several substances are mostly combined.
The chemical filters absorb high-energy radiation and give it off again as lower-energy, longer-wave radiation. The substances penetrate into the upper layer of the skin (epidermis) which is why sun protection will not be ensured until 30 minutes after application.
Chemical sunscreens may give rise to skin allergies, and sensitive persons therefore should use physical sunscreen. Physical filters mainly act to scatter and reflect the light via microscopically small particles (e.g. white zinc oxide).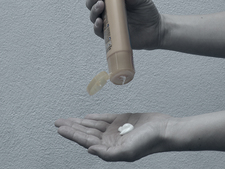 Trotz Sonnenschutzmittel dringt noch ein Teil der UV-Strahlung in die Haut ein; sie schützen deshalb nicht vor langfristigen Schäden der Haut.
The Sun Protection Factor
The sun protection factor (SPF) which is globally fixed according to the "International Sun Protection Factor (SPF) Test Method", mainly specifies the protection provided against UV B-radiation. SPF indicates the factor by which a person can extend their staying in the sun without getting sunburnt after having applied sunscreen, compared to not applying sunscreen.
Which sun protection factor is required depends on both the skin type and the intensity of solar radiation, i.e. the topical UV-Index. Applying sun protection factor 20, for instance, would theoretically mean to extend the time of solar exposure without getting sunburnt by a factor of 20, compared to unprotected exposure to the sun. So, an individual protection time of 10 minutes would be extended to 10 minutes * 20 = 200 minutes (about three hours) of solar exposure without getting sunburnt.
Please note: Since part of the UV-radiation still enters the skin despite sunscreen, this latter provides no protection from long-term skin damages such as skin cancer! This is why sunscreen should never be used to extend the time spent in the sun for any length of time. As a general rule, care should be taken to use no more than 60 per cent of the extension in protection time correlating with the declared sun protection factor! Moreover, any previous exposure to the sun has to be taken into account.
How to achieve optimum protection by sunscreen
The protection declared will only be ensured when a sufficient amount of sunscreen is applied evenly to all uncovered parts of the body (about 30 to 40 millilitres for the whole body) and regularly reapplied (at least every 2 hours). Reapplying sunscreen after bathing and towelling should be remembered. Please note: reapplying does only retain but not extend the protective effect.
Which sunscreen is good for me?
Good sunscreens should be photostable, i.e. they must not loose their protective effect under the influence of light, and should provide protection from both the UV-B and the UV-A range. The European Union (EU) issued a recommendation in September 2006 according to which sunscreens shall provide a minimum of UV-A protection. If the protective effect (UV-A protection factor) is more than one third of the sun protection factor, the product is allowed to be labelled accordingly in terms of sufficient UV-A protection.
The choice of a sunscreen is decisively determined by the skin type. The paler the skin type, the higher the protective effect required from the product. In addition, the choice of a suitable sunscreen depends on the intensity of UV-radiation, on a possibly existing hypersensitivity against sunscreen ingredients and maybe skin diseases caused by light. As a general rule, a higher sun protection factor is required for children than for adults.
The European classification puts sunscreens into the following protection categories according to the Sun Protection Factor (SPF):
low protection: SPF 6 to 10,
medium protection: SPF 15 to 25,
high protection: SPF 30 to 50, and
very high protection: SPF exceeding 50.
The Federal Office for Radiation Protection (Bundesamt für Strahlenschutz, BfS) recommends an SPF of at least 30 for children and at least 20 fur adults. Staying at high altitudes (e.g. on glaciers), on the waterfront and in the South will require sunscreen providing high to very high protection.