Goettingen Catalogue of Nuclear Law (GAK)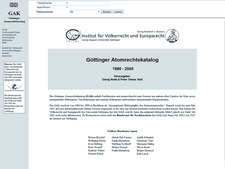 Atomenergierecht online recherchieren - im Göttinger Atomrechts-Katalog (GAK) unter http://gak.bfs.de
Between 1960 and 1988, Goettingen Catalogue of Nuclear Law (GAK) was published in print as "International Bibliography of Atomic Energy Law" by the Institute for International and European Law Goettingen. Later on it was replaced by a database version which could be accessed free of charge on the internet.
GAK contains bibliographic information on specialist literature and nuclear legislation from countries worldwide as well as international treaties, agreements and other documents issued by international organizations. Over the past decades this collection grew to a final amount of approximately 10,000 articles and 79,000 copies of acts, international treaties and other materials. Between 1988 and 2005 approximately 15,000 documents were added.
Specialized subject classification for nuclear law
GAK provides a specialized subject classification for nuclear law. The classification can be used in various ways, allowing to run searches according to topics and their sub-areas, subject groups of nuclear law (such as radiation protection) or to carry out a search based on country codes.
Comprehensive collection (up to 2005) available on the internet
GAK was developed by the Institute for International and European Law at University of Goettingen. For technical reasons the institute can no longer provide access to GAK and has stopped updating it since July 2005.
As of 2013 GAK is made available on the internet by the Federal Office for Radiation Protection (BfS) in order to provide permanent access to its content.