BfS "DORIS" Online Library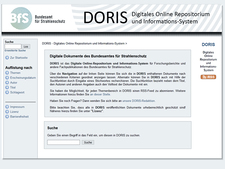 Publikationen des BfS online recherchieren - in DORIS, dem Digitalen Online-Repositorium und Informationssystem des BfS
Since 2009, the Federal Office for Radiation Protection (BfS) has been taking to publishing its scientific publications electronically. The BfS "Digital Online Repository and Information System" (in short: DORIS) is the online platform for central storage, long-term archiving and publication of the scientific reports of the Federal Office for Radiation Protection.
Searching electronic BfS publications in DORIS
Currently, there are two top level areas in DORIS with altogether nine sub-collections (according to "subject matters").
The first area covers all main subjects of BfS:
Electromagnetic fields
Repositories
Ionizing radiation
Nuclear engineering
Optical radiation
Transport / storage
The second area includes collections meeting certain formal criteria:
Reports and studies (publications dealing with generic or general subject matters that cannot be allocated to a single "subject matter
Departmental research (final reports from research projects of the Federal Environment Ministry)
Annual reports (BfS Annual Reports)
DORIS provides the opportunity to have the data sets sorted according to various aspects such as date of publication, author, title or key word. A search function allows the search with key words, either as "global search" (in the entire data stock) or limited to special subject areas. Since DORIS carries out a full text indexing, also the content of the archived documents is browsed.
URN for persistent identification of digital publications
To clearly mark the electronic BfS publications and to guarantee permanent citability, a URN (abbreviation of "Uniform Resource Name") is issued for each document published in DORIS. URNs can be compared with the ISBN number e.g. of books and serve to permanently and clearly identify digital publications.
It is therefore preferable to use URNs to link documents in websites, since such URN-based links never become inactive and do not require updating.