International Co-operation
High Level and Expert Group on low dose risk research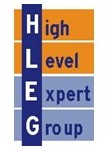 The High Level and Expert Group (HLEG) was an initiative of representatives of six national bodies with a policy interest or substantial research activities in low dose risk research and the EC EURATOM research programme. They were assisted by experts from the research community to identify research priorities and training needs.
The Secretariat functions of the HLEG were carried out by BfS.
The results of the HLEG
The final HLEG report (January 2009) is available on the EU website.