Dose coefficients to calculate radiation exposure
The Radiation Protection Ordinance (Strahlenschutzverordnung - StrlSchV) determines dose limits and reference levels for the radiation exposure to the public during everyday life and professional occupation. Dose coefficients are used to calculate the radiation exposure.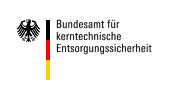 The dose coefficients were published in the Bundesanzeiger no. 160a and 160b of 28 August 2001.
The dose coefficients can be found on the website of the Federal Office for the Safety of Nuclear Waste Management (BfE). It took over the task of publication on 30 July 2016 from the Federal Office for Radiation Protection (BfS).